LOGO GUIDELINES    
Consistency establishes trust. It is vital that Texas A&M University at Galveston logos be used in a consistent manner by all colleges, departments, offices and divisions across the university. Review the logo guidelines to access logo downloads. 
Primary Logo
Our logo is the face and signature of our brand.
We have one logo – the combined block TAM and Galveston Campus typography. It is our primary identifier, and a logo must be present on all communications from the university.
As a branch campus of Texas A&M University, we abide by all guidelines issued by Texas A&M. Logos must be used consistently by all units, departments and divisions across the campus.
Our logos must not be altered in any way and should only appear in Aggie Maroon™, black or white. 
Unit Identities
The department, division and services identity combines the TAM Logo Box and "Texas A&M University at Galveston" or "Texas A&M University Galveston Campus" with the name of the campus unit. Depending on the length of the unit name, it may appear on one or two lines.
This identity is to provide units with a clear and professional affiliation with the university and should not be altered in any way. Marks are stored on a Texas A&M University at Galveston Google drive and are available to employees only.  
Employees may access unit marks through the Deliverables Portal. You must have a university email to access the Deliverables Portal. 
Seals
The Texas A&M University seal image is restricted to use by the Office of the President. The Texas A&M Maritime Academy seal image is restricted to use by the Office of the Superintendent.
Both seals are restricted to correspondence and official documents, such as diplomas and some certificates. The seal is only used in select official permanent installations on campus as approved by the Division of Marketing & Communications, and may not be used on printed marketing material, business cards, presentations or websites.
The Texas A&M University at Galveston seal is permanently retired and is not to be used for any reason.  
Promotional Items
Logos, including unit identity marks, may be used on merchandise and promotional items through the use of a licensed vendor. Additional information is available through the Office of Brand Development.
Student Organizations
Registered student organizations are encouraged to create their own unique logos. Unique logos may not include or incorporate trademarks licensed by Texas A&M University including logos, icons, or taglines without approval from the Office of Business Development. Registered student organizations may have access to the Recognized Student Organization mark by emailing marcom@tamug.edu.
Centers and Institutes
The Galveston Campus abides by Texas A&M University guidelines regarding branding for centers and institutes. These guidelines follow the same as those for departments, divisions and services. However, we recognize that unique circumstances may influence center and institute branding. We recommend requesting a consultation to ensure brand compliance.
Texas A&M Maritime Academy Marks
The Texas A&M Maritime Academy has specific guidelines on the use of the Texas A&M Maritime Academy seal, word mark and coat of arms. Please contact marcom@tamug.edu for additional information. 
USE EXAMPLES    
When using any Texas A&M logo, be sure to scale all marks proportionally, and use the electronic logo files as provided in the Logo Downloads section with the registered trademark symbol. Note the incorrect use cases below:
DON'T
Don't distort, modify or remove elements from the official university logos provided.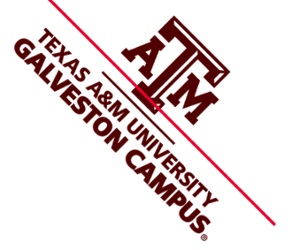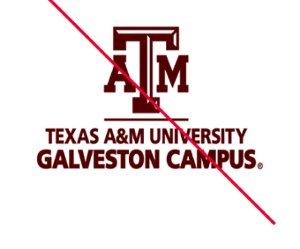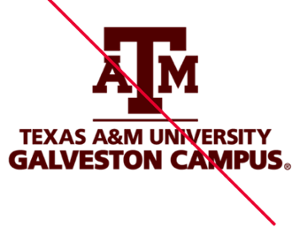 Don't create your own logo, use incorrect colors or add elements to the official university logos.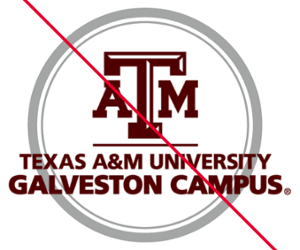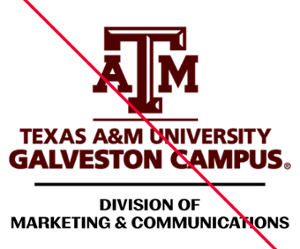 Don't reverse the TAM Logo Box as white with a maroon TAM.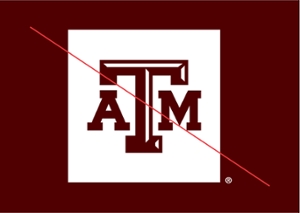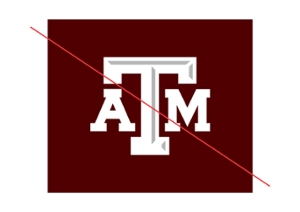 Clear Space
Clear space is necessary to provide breathing room around the unit identity. Leave a clear space around the top, bottom, left and right of the logo that is half of the "T width" in the TAM.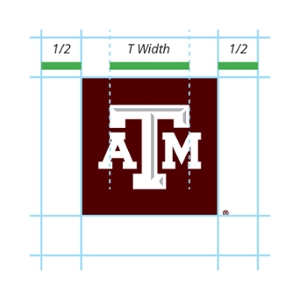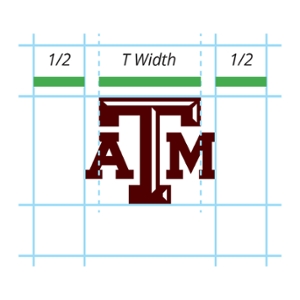 Minimum Size
To ensure legibility, logos and unit identities must not be reduced beyond the following defined minimum size:
Logos and unit identities should not be printed smaller than .5 inches tall.
When displayed on screen, they should never appear smaller than 30 pixels tall.
When embroidered, they should never be sewn smaller than 1.125 inches tall.
Multiple Unit Identities
If you need to identify more than one university entity equally on a communication, use the following guideline:
DO:
Do use one logo, preferably the TAM logo box, and list multiple units as part of the content or within the design.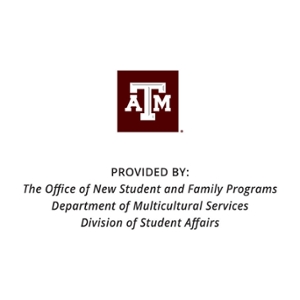 DON'T:
Don't use more than one unit identity in the same design space (ie the same page of a print communication, t-shirt or website page).