About Dr. William J. Merrell
Dr. William J. Merrell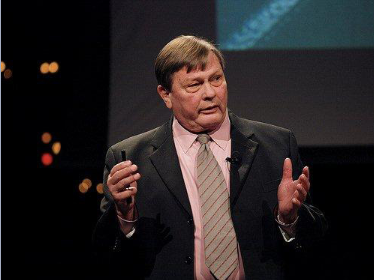 Bill Merrell is the George P. Mitchell '40 chair in marine sciences and president of Merrell Historic Properties, Inc.
He has served as president of the H. John Heinz III Center for Science, Economics, and the Environment, vice chancellor for Strategic Programs of The Texas A&M University System, vice president for Research Policy of Texas A&M University, president of Texas A&M University at Galveston, and assistant director of the National Science Foundation.
Merrell received the Distinguished Member Award for Research Achievement from the Texas A&M University Chapter of Sigma XI, the Distinguished Achievement Award from the Geosciences and Earth Resources Council. He is the only person to receive the Distinguished Service Award of the National Science Foundation twice, a group award in his role as the first principal investigator of the Ocean Drilling Program and an individual award for "his lasting impact on the course of American science." Merrell has served on the Ocean Studies Board (chair), Space Studies Board and the Board on Sustainability of the National Research Council. He holds a BS in physics and a MA in mathematics from Sam Houston State University and a PhD in oceanography from Texas A&M University.
Merrell teaches the Capstone Course in the Masters of Marine Resource Management Program (link) in the Marine Sciences Department. His scientific work has included studies of regional and large-scale ocean physics as well as coastal processes and hurricane impacts. Recently his interests have evolved to coastal sustainability and disaster mitigation and recovery. (Recent Publications). In particular, he is investigating the possibility of a regional surge suppression barrier for the Houston/Galveston area, the Ike Dike. Bill has also published fiction and his interest in historic structures has led to his family's ownership and preservation of the 1853 John DeLong/Commodore Chubb House in Galveston's East End Historic District and the 1870 Merchants Mutual Insurance Building in the Strand Historic District.
Bill can be contacted at merrellw@tamug.edu or 409-740-4732.